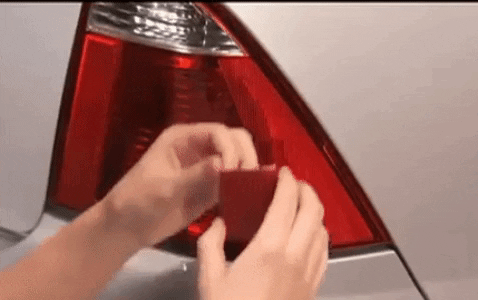 New all 3 colors in one affordable Multi-Pack Lens Repair Kit! Auto Lens Repair Kit will fix a typical broken taillight lens in place, without removing the housing. The repair panel has a pre-formed grid pattern that closely matches the color and reflective qualities of the lens. Quick Lens mounts quickly and easily on flat or curved surfaces with a special adhesive gasket forming a weatherproof seal.
FEATURES: 
【Simple Application】The kit is designed to easily repair taillights, turn signals and clear lenses without removing the housing.you can seal damaged rear lights while on holiday or on the road and continue your journey to a manufacturer's workshop.

【Grid Design】The restoration panel is designed with a pre-formed grid pattern that closely matches the original lens.

【Three Colors】The multi-piece repair kit comes in three colors: red, amber, and clear.

【Easy to Use】Its special adhesion will form a weatherproof seal, allowing adhesion to flat or curved surfaces.

【Suitable for Many Tail Lights】Suitable for the crack repair of taillights, turn signals, and transparent lenses. This Auto Lens Repair Kit is practical and economical.
INSTRUCTION:
Remove all loose and broken pieces around the damaged area. Clean the lens around the area thoroughly with a dry cloth.
Hold panel over the damaged area to determine the size of the lens repair panel. Position the pane allowing 1/2 inch overlap on all sides of damage. if the size selected needs to be smaller, trim along the inner grid lines.

Peel backing from panel and center over the area to be repaired. Press the panel to the lens and run your fingers around the edges to ensure a good bond.
SPECIFICATION:
Material: plastic
Quantity: 1 pack (3pcs)
Color: Red, Amber, Clear
Size: 19.6*9.5cm
Package Weight: approx.70g
PACKAGE INCLUDES: 
1 x Auto Lens Repair Kit (3 pieces)