EXPERIENCE SLEEPLESS NIGHT because of baby crying? 
This revolutionary bed, Ergonomic Baby Bed ensures the well-being of your baby and guarantees peaceful nights for both, baby and the parents! This perfectly adapts to your baby's body shape and provides them and optimum head and back support. Its unique design imitates the baby embryo period, thus making your babies feel safe and secure. 
FACILITATES DIGESTION – With its adjustable positioning cushion, it

 

puts your baby in a proper sleeping position

 

and

 

allows you to raise their legs

 

with ease so as to

 

aid in facilitating proper digestion

.
ANTI-ROLLING

 

–

 

Designed with a pillow and comfortable edge which are surrounding the baby which then

 

prevent the baby from rolling over, thus creating a secure sleeping atmosphere for the baby at bedtime.
PREVENTS STARTLE REFLEX – Its

 

cushioned edges creates a cocoon-feel that

 

reassures and secures your baby and prevents startle reflex.
ADJUSTABLE FIT

 

– Completely adjustable to

 

f

it babies from newborn to 24 months

, thus provides a safe haven for babies for a long period of time.
ULTRA COMFORT – Made out of

 

soft breathable fabric which

 

keeps the back and neck areas of the baby cool and prevents sweat build-up

 

for a comfier sleep.
FLAT HEAD PREVENTION

 

– Its

 

fitted head support

 distributes the pressure on skull evenly, ideal for

 

keeping baby's head nice and round and prevents from plagiocephaly or flat-head syndrome.
PORTABLE

 

–

 

Made lightweight so you can easily bring it with you

 

to provide a comfy sleep to your little ones

 

anytime, anywhere.
Provide your babies the best sleep they deserve with the Ergonomic Baby Bed! Say goodbye to sleepless nights from now on and say hello to safe & sound sleep for you and your baby!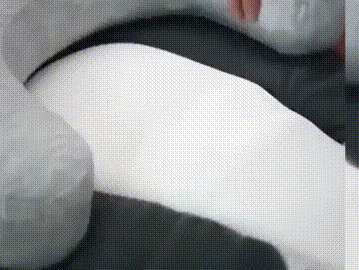 ---
PRODUCT SPECIFICATIONS
Material: Fabric
Pillow Height: 4"-6" (10.1-15cm)
Net Weight: 0.45kg
Age Range: 0-24 months
Available Colors: Grey / Flesh / Blue
Package Inclusion/s: 1 pc. Ergonomic Baby Bed